COVID TASKFORCE UPDATE
DECEMBER 18, 2020
NEW QUARANTINE GUIDELINES
The Centers for Disease Control & Prevention (CDC) and the Idaho Department of Health and Welfare (IDHW) have provided options to reduce the isolation period for people without symptoms (asymptomatic) who are close contacts of those who have tested positive for COVID-19. Fourteen days of isolation is still considered the best practice and remains the safest way to avoid spreading this virus. The revised options shorten isolation for some, and are acceptable alternatives to reduce the burden of isolation on individuals, families, and businesses.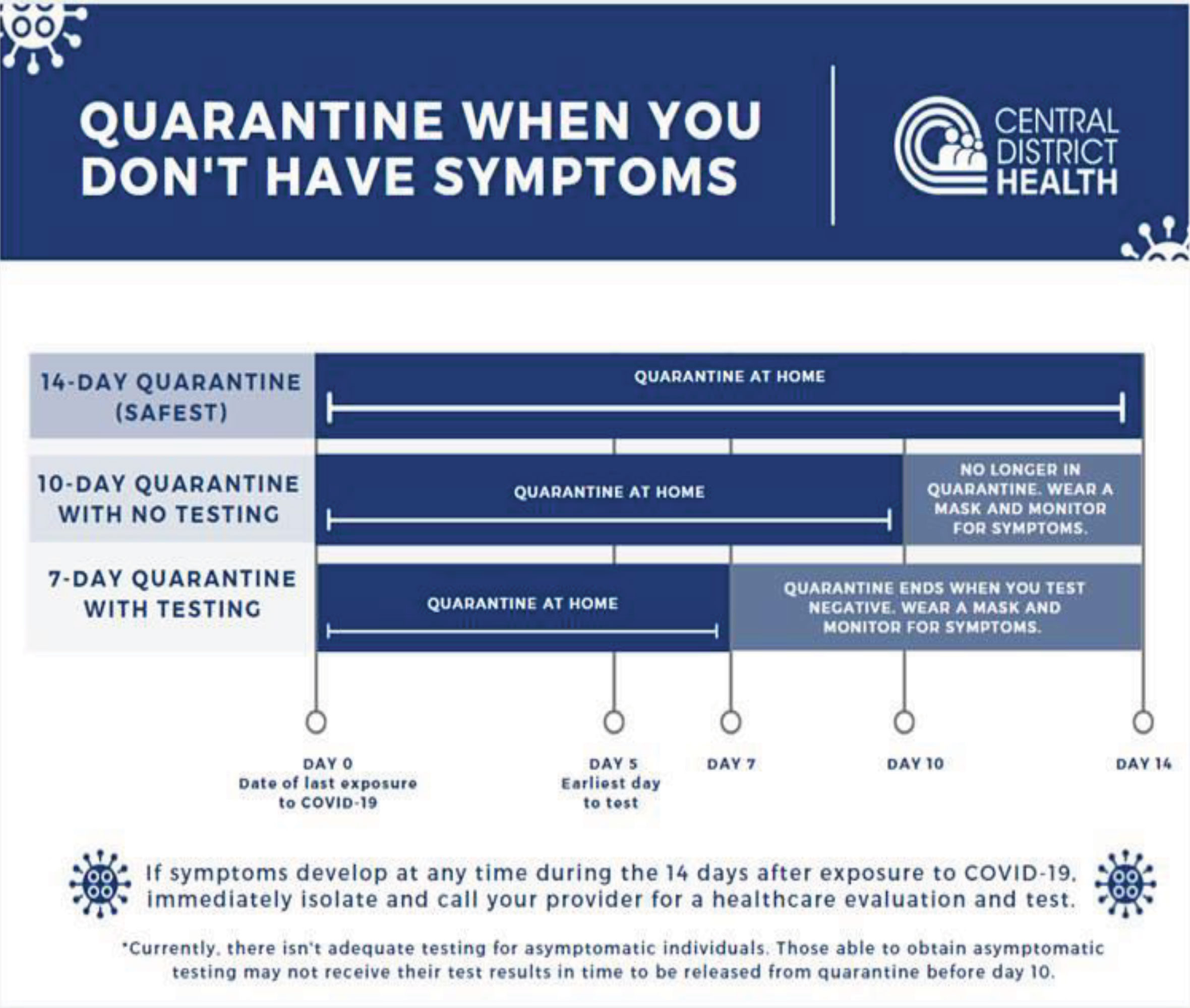 Non-Test-Based Scenario: Person was exposed, has no symptoms, and was not tested

Isolation can end after Day 10 from the last day of close contact with the positive case, provided no symptoms have been reported during daily monitoring.

Test-Based Scenario: Person was exposed, has no symptoms and was tested

When diagnostic testing resources are sufficient and available, then isolation can end after Day 7 if a diagnostic PCR specimen tests negative and if no symptoms were reported during daily monitoring.

Test method must be a PCR test
The specimen may be collected as early as 5 days after exposure
Quarantine can end only after the negative test result is available, but no earlier than Day 7
In both scenarios, additional measures such as continued symptom monitoring and masking through Day 14, must be met and are outlined in the full text found on the CDC's website: https://www.cdc.gov/coronavirus/2019-ncov/more/scientific-brief-options-to-reduce-quarantine.html
CENTRAL DISTRICT HEALTH VOTES TO NOT ADOPT ORDER
The seven-member Board voted against the draft public health order. All three Ada County Board Members, Commissioner Diana Lachiondo, Dr. Ted Epperly, and Dr. Jane Young, voted in favor of the motion. Elmore County, Valley County, and Boise County Board Members, Rep. Megan Blanksma, Commissioner Elt Hasbrouck, and Commissioner Ryan Stirm, voted against the motion. Board Chair Betty Ann Nettleton abstained from voting to break the tie, and the motion automatically failed.
The Board began discussing the draft district-wide order earlier this month in response to rising case counts, hospitalizations, admissions to the intensive care unit (ICU) at local hospitals, and the threat of looming holiday impacts further burdening our communities. The draft order sought to help drive down case counts and preserve hospital capacity.
The Board discussed its commitment to the public health of CDH's jurisdiction and addressed the need for ongoing cooperation among residents within the counties they represent.
Orders remain in place for Ada and Valley Counties; district-wide Advisory in place
While the district-wide draft order was not approved, a Public Health Order remains in place for Ada County [enacted June 26, 2020] and a Mask Order remains effective for Valley County [enacted Aug. 11, 2020]. Additionally, a district-wide Public Health Advisory [issued Nov. 17, 2020] is also in place and outlines strong recommendations to reduce COVID-19 exposure risk for all Ada, Boise, Elmore, and Valley County residents.
VACCINE FAQ
For more information and FAQs, please visit the CDC Website >>
How many shots do I need?
Most COVID-19 vaccines will require two shots, spaced about 3 weeks apart. Both shots are neccessary to build immunity agains COVID-19. There are additional vaccines in development that would only require one shot, so this may be an option down the road.
How much will it cost to be vaccinated?
Vaccinations will be free. Some providers may charge an administrative fee that would be billed to your insurance.
Should i get vaccinated if i have already had covid-19?
There is not enough information currently available to say if or for how long after infection someone is protected from getting COVID-19 again; this is called natural immunity. Early evidence suggests natural immunity from COVID-19 may not last very long, but more studies are needed to better understand this. Until we have a vaccine available and the Advisory Committee on Immunization Practices makes recommendations to CDC on how to best use COVID-19 vaccines, CDC cannot comment on whether people who had COVID-19 should get a COVID-19 vaccine.
do i still need to wear a mask after i am vaccinated?
Yes. While experts learn more about the protection that COVID-19 vaccines provide under real-life conditions, it will be important for everyone to continue using all the tools available to us to help stop this pandemic, like covering your mouth and nose with a mask, washing hands often, and staying at least 6 feet away from others. Together, COVID-19 vaccination and following CDC's recommendations for how to protect yourself and others will offer the best protection from getting and spreading COVID-19. Experts need to understand more about the protection that COVID-19 vaccines provide before deciding to change recommendations on steps everyone should take to slow the spread of the virus that causes COVID-19. Other factors, including how many people get vaccinated and how the virus is spreading in communities, will also affect this decision.
The surge in COVID cases in Idaho and in Valley County mean that contact tracers are overloaded. This means that we all need to do our part. Knowing what steps to take after experiencing symptoms or having an exposure to a COVID-positive case can make all of the difference.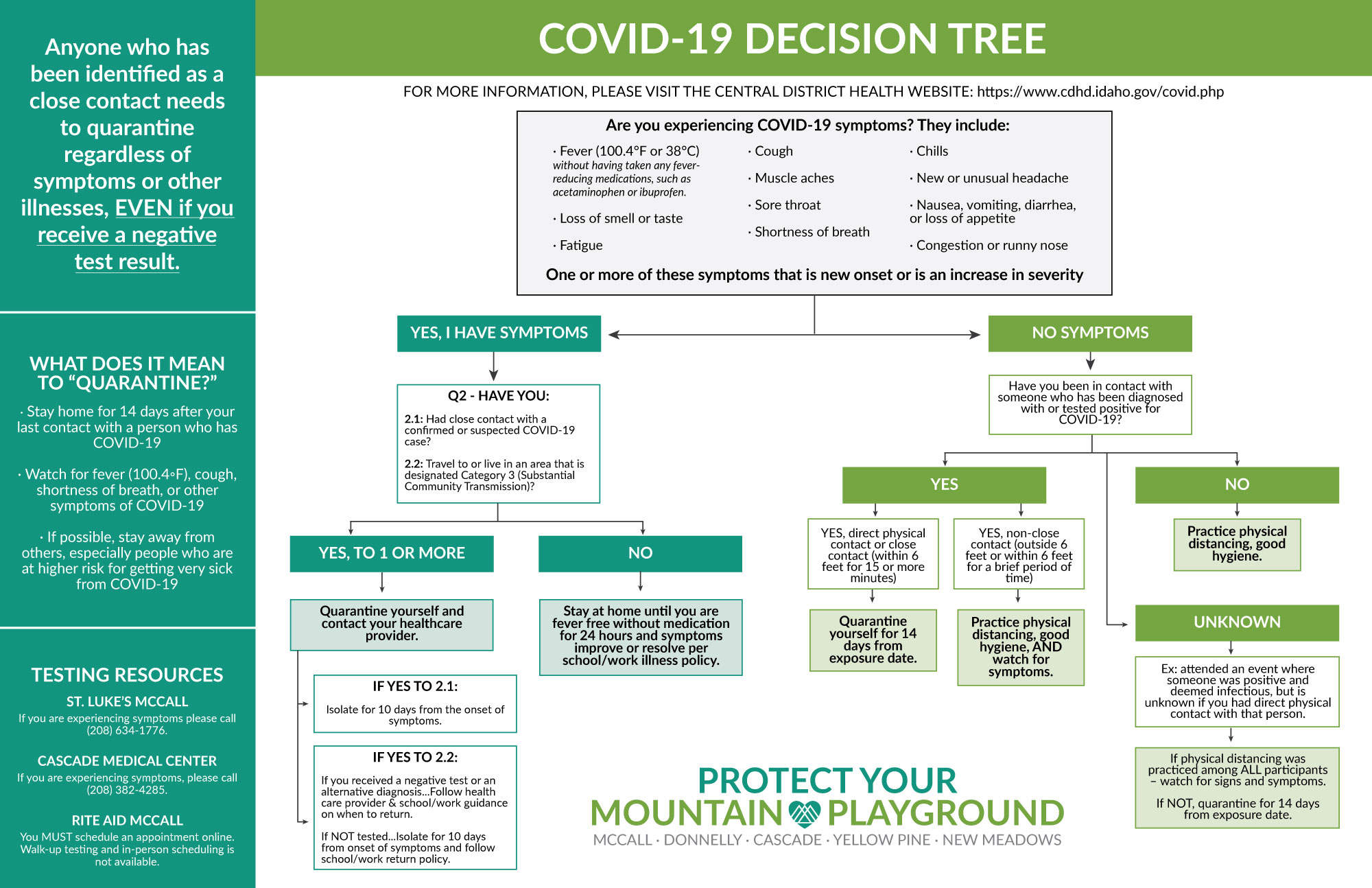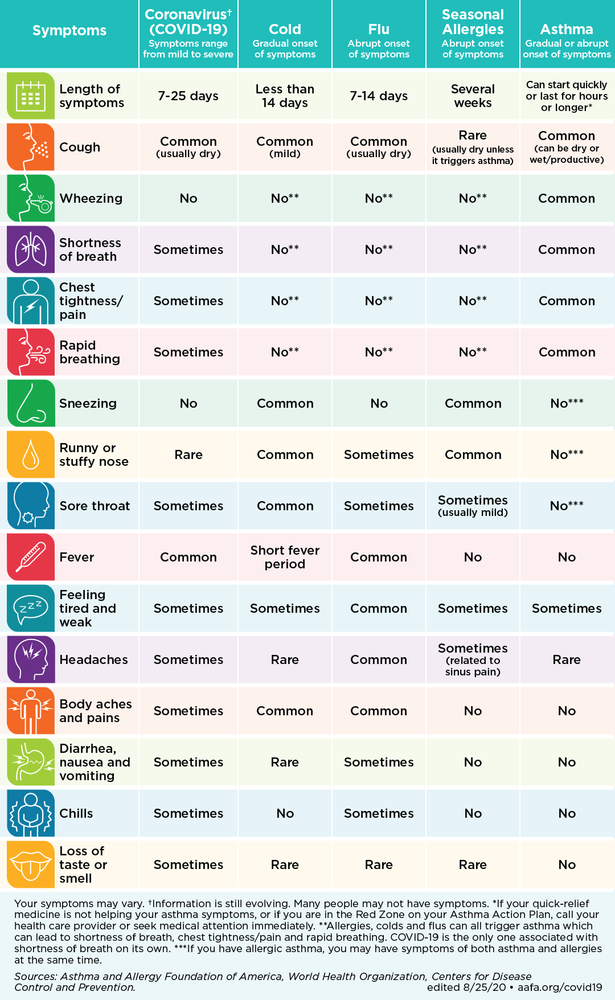 VALLEY COUNTY BY THE NUMBERS
TOTAL CASE COUNT
367 CONFIRMED + PROBABLE CASES  |  2 COVID-19 DEATHS

CASE RATE
Target case rates are determined to be the level at which spread is considered manageable without broader restrictions.
Each county's target case rate is calculated based on population to represent the number of cases per 100,000 residents.
VALLEY COUNTY TARGET CASE RATE = 11 | VALLEY COUNTY CURRENT CASE RATE = 30